.

.

Trinity Lutheran Church
820 Lockett Road
Kirkwood MO 63122
Office:  (314) 822-8244
Fax:  (314) 822-9290
Email:  tlchurch@swbell.net
Sunday mornings: Education Hour 9:15 ♦ Worship 10:30 ♦ Coffee Fellowship 11:45
This Week at Trinity
Monday, December 11
6:30 pm  Council meeting
Tuesday, December 12
6:30 am  ChristCare – Plufka
Wednesday, December 13
12:00 pm Bible Study – Luther's sermons on Christmas
6:30 pm  Transition Team
7:30 pm  NA
Thursday, December 14
9:15 am  Men's Bible study
Tribune articles due
Friday, December 15
9:00 am  Quilters
Saturday, December 16 
8:00 am – Noon  PDO Shop Til You Drop
Sunday, December 17 – 3rd Advent
9:15 am  Education hour
10:00 am  Sunday School Christmas program
10:30 am  Worship service
11:45 am  Dessert reception
11:45 am  WELCA Bake Sale
5:00 pm  Youth Christmas party at Gethsemene
---
Trinity's Office Hours:
Monday 9:00 – 5:30
Tuesday 9:00 – 5:30
Wednesday 9:00 – 5:30
Thursday 9:00 – 5:30
Friday 9:00 – 3:00
---
Our Sunday School Kirk Care Mission

Desired donations to the pantry include:
chunky meaty soups, canned pastas such as Spaghettios and ravioli, canned meats such as Spam, chili, stew, tuna, chicken, peanut butter, cereal, etc.
---
---
Luther said…
.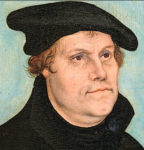 "The Bible is alive, it speaks to me; it has feet, it runs after me; it has hands, it lays hold of me."
---
WELCA'S MITTEN TREE
Our annual mitten tree is located in the lounge.
Please help us by donating any gloves, mittens, hats, and/or layette items for Lutheran Family and Children's Services.
---

WELCA Bake Sale
Sunday, December 17th
11:45 a.m. after worship service
The Bake Sale will benefit our Project Day cost of shipping the items for Lutheran World Relief (quilts, health kits, school bags, layettes).  We are asking for volunteers to make and bake cookies, breads, pies, cakes, muffins, brownies, etc.  Please sign up on the WELCA bulletin board in the lounge if you can help us.  Something for everyone.  Great for Christmas gifts.
Please bring your baked goodies to church on Saturday, December 16th, between 10 and 12 a.m. in the lounge.  If you need to bring them on Sunday morning, please make sure that they are packaged for the sale and priced.  Thanks!
---
Prayer Ventures: December 14

by

Bruce Helland

on December 14, 2017 at 9:00 am

Every day, Living Lutheran offers a prayer for the day from the ELCA resource Prayer Ventures, which can be downloaded here. These petitions are offered as a guide for your own prayer life as together we pray for the needs of the world and give thanks for the ministries of our church. Thursday, Dec. 14: […] The post Prayer Ventures: December 14 appeared first on Living Lutheran. […]
---
CHRISTMAS EVE SCHEDULE AT TRINITY
Sunday, December 24
10:30 a.m.  Worship service
5:00 p.m.  Candlelight service
10:00 p.m.  Candlelight service
---
SUNDAY, DECEMBER 17
10:00 a.m.
Followed by the Advent worship service
Please join us this coming Sunday, December 17th at 10:00 a.m. for the annual Christmas program presented by Trinity's youth.  Sneak peak – some of our youth will be magically transformed into animals and will share the Christmas story with you!
And make sure you stick around after worship service to join in a holiday dessert reception and hot chocolate bar.  You can nosh on nibbles while meandering through the bake sale hosted by WELCA and pick up some yummy holiday goodies for gifts for you!
It's a very special time of year.  Please join us!
---

Sunday Morning Adult Class
9:15 a.m., in the church lounge
Journey with Martin Luther

Wednesday Noon Bible Study
12:00 p.m., in the church lounge
December 6th:  Luther and Mary, the Mother of Jesus
Thursdays at 9:00 a.m.
No meeting December 7th