.

.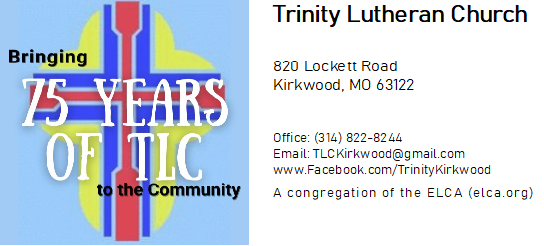 Sunday Schedule: 10:30 a.m. Indoor Worship * via Youtube, Facebook, Website
---

Join us for worship!
 Sundays at 10:30 a.m.

This Week at Trinity

Monday, August 15

Psalm 32

Tuesday, August 16

Acts 7:44-53

Wednesday, August 17

Jeremiah 25:30-38

Thursday, August 18

Isaiah 58:9b-14

Friday, August 19

Psalm 103:1-8
The LORD crowns you with mercy and steadfast love. (Ps. 103:4)

Saturday, August 20

Hebrews 12:18-29

Sunday, August 21

10:30 a.m.  Worship service
Gospel:  Luke 13:10-17

---

Trinity's Office Hours: 

Monday 9:00 – 5:00
Tuesday 9:00 – 5:00
Wednesday 9:00 – 5:00
Thursday 9:00 – 5:00
Friday 9:00 – 3:00

---

Our Sunday School
Kirk Care Mission

Current needs for the pantry include:

Healthy Request-Chunky Soup, Healthy Request-Campbell's 10.5oz soups any, Beef Stew, Saltines, Brown Rice-any kind(instant or regular), Spaghetti Sauce (cans or plastic)

---

Adult Bible Study Classes

Wednesdays, 10:00 a.m.
On Pause for the summer.

---

Parents' Day Out
Accepting enrollments!

Under the directorship of Erika Duenwald, we have a solid plan in place and are doing our very best to provide a safe and healthy environment for our children.

Our program runs Monday through Friday from 8:30 a.m. to 12:30 p.m. and is designed to give parents an opportunity to run errands, get a few chores done, work a part-time job, or just relax and rejuvenate for a few hours. You choose your days!

We provide a safe, nurturing program where your child will have fun while socializing with children their age. We offer a Christ-centered environment, Bible stories, crafts, music, and interaction with our wonderful loving staff.

For more information, contact Erika at pdo@trinitykirkwood.org.

---

Tenth Sunday After Pentecost August 14

Ninth Sunday After Pentecost August 7

---

For Services from previous weeks, please see our videos on

Facebook

and

YouTube

---

Congratulations from Kirkwood's Mayor, Timothy Griffin, on the recognition of Trinity's 75th Anniversary.

Luther said…

"Lord Jesus, You are my righteousness, I am your sin.

You took on you what was mine; yet set on me what was yours.

You became what you were not, that I might become what I was not."

– Martin Luther

---

"I want them to know God"

by

Megan Brandsrud

on August 18, 2022 at 10:00 pm

Lori Fuller is the newly ordained pastor of Palms Deaf Church, a new ministry in Palm Coast, Fla., for people who are deaf. Fuller is the third woman who is deaf to be ordained in the Lutheran church worldwide. "Through my years of working with Deaf communities, I saw that they were seeking more in The post "I want them to know God" appeared first on Living Lutheran.

 

---

JOIN US!
SUNDAY, SEPTEMBER 11

When to party

:
Worship at 10:30 a.m.
Community celebration
from Noon to 4:00 pm.

Great BBQ and sides
Bubble Van Noon-1:00 p.m.
Face painting, games, Classic Model A cars, First Responders equipment, shaved ice and ice cream, prizes, fun, and so much more!

Proceeds to benefit HORIZONS ST. LOUIS.

---

Sunday:
August 21 11:45 a.m. – 12:30 p.m.

---

Reading for Thursday, August 18
Isaiah 58:9b-14

9 Then you shall call, and the Lord will answer;
    you shall cry for help, and he will say, "Here I am."

If you remove the yoke from among you,
    the pointing of the finger, the speaking of evil,
10 if you offer your food to the hungry
    and satisfy the needs of the afflicted,
then your light shall rise in the darkness
    and your gloom be like the noonday.
11 The Lord will guide you continually
    and satisfy your needs in parched places
    and make your bones strong,
and you shall be like a watered garden,
    like a spring of water
    whose waters never fail.
12 Your ancient ruins shall be rebuilt;
    you shall raise up the foundations of many generations;
you shall be called the repairer of the breach,
    the restorer of streets to live in.

13 If you refrain from trampling the Sabbath,
    from pursuing your own interests on my holy day;
if you call the Sabbath a delight
    and the holy day of the Lord honorable;
if you honor it, not going your own ways,
    serving your own interests or pursuing your own affairs;
14 then you shall take delight in the Lord,
    and I will make you ride upon the heights of the earth;
I will feed you with the heritage of your ancestor Jacob,
    for the mouth of the Lord has spoken.

Gospel for Sunday, August 21
Luke 13:10-17

10 Now he was teaching in one of the synagogues on the Sabbath. 11 And just then there appeared a woman with a spirit that had crippled her for eighteen years. She was bent over and was quite unable to stand up straight. 12 When Jesus saw her, he called her over and said, "Woman, you are set free from your ailment." 13 When he laid his hands on her, immediately she stood up straight and began praising God. 14 But the leader of the synagogue, indignant because Jesus had cured on the Sabbath, kept saying to the crowd, "There are six days on which work ought to be done; come on those days and be cured and not on the Sabbath day." 15 But the Lord answered him and said, "You hypocrites! Does not each of you on the Sabbath untie his ox or his donkey from the manger and lead it to water? 16 And ought not this woman, a daughter of Abraham whom Satan bound for eighteen long years, be set free from this bondage on the Sabbath day?" 17 When he said this, all his opponents were put to shame, and the entire crowd was rejoicing at all the wonderful things being done by him.