.

.

Trinity Lutheran Church
820 Lockett Road
Kirkwood MO 63122
Office:  (314) 822-8244
Fax:  (314) 822-9290
Email:  tlchurch@swbell.net
Sunday mornings: Education Hour 9:15 ♦ Worship 10:30 ♦ Coffee Fellowship 11:45
This Week at Trinity
Monday, November 19

Tuesday, November 20
6:30 am  ChristCare Plufka
1:00 pm  ChristCare Sullivan
1:00 pm  ChristCare Chumley/Hahs
Wednesday, November 21 – PDO Closed
No Adult Class
7:30 pm  NA
Thursday, November 22 – Thanksgiving Day – All Offices Closed
Friday, November 23 – Thanksgiving – All Offices Closed
9:00 am  Quilters

Saturday, November 24
Sunday, November 25 – Christ The King Sunday
No Sunday School/Education Hour
10:30 am   Worship Service
11:45 am   Coffee Fellowship
11:45 am  Hanging of the Greens (lunch included for decorators)
---
Trinity's Office Hours:
Monday 9:00 – 5:30
Tuesday 9:00 – 5:30
Wednesday 9:00 – 5:30
Thursday 9:00 – 5:30
Friday 9:00 – 3:00
---
Christmas Eve Candlelight Service
Monday, December 24
5:00 p.m.
All are welcome!  Please join us as we celebrate the birth of our Savior through worship, reflection, readings, song, and candlelight.
---
Our Sunday School Kirk Care Mission

Desired donations to the pantry include:
chunky meaty soups, canned pastas such as Spaghettios and ravioli, canned meats such as Spam, chili, stew, tuna, chicken, peanut butter, cereal, etc.
---
Luther said…
.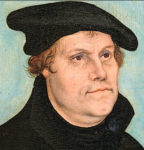 "Our works do not generate righteousness, rather our righteousness in Christ generates works."
---
Prayer Ventures: Nov. 20

by

Andrea Kulik

on November 20, 2018 at 9:00 am

Every day, Living Lutheran offers a prayer for the day from the ELCA resource Prayer Ventures, which can be downloaded here. These petitions are offered as a guide for your own prayer life as together we pray for the needs of the world and give thanks for the ministries of our church. Tuesday, Nov. 20 […] The post Prayer Ventures: Nov. 20 appeared first on Living Lutheran. […]
---

 

WELCA Christmas Program
Sunday, December 2nd
2:00 p.m.
Our special guests are "The Mistle-Tones", a women's barbershop quartet.  They will treat us with holiday favorites, repertoire tunes, and Christmas sing-alongs.  Barbershop-style singing is one of the happiest singing styles.  Perfect for Christmas!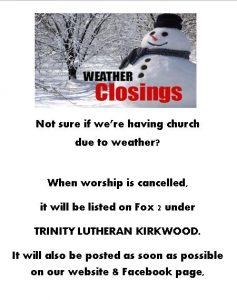 ---

Adult Bible Study Classes
Sundays
9:15 to 10:00 a.m.
Each week a study of the 2nd Scripture Reading
Wednesdays
noon to 1 p.m.
November 28:  "Honoring Our Neighbor's Faith"
(No class November 21)
Men's Bible Study
Next study, Thursday, December 13
noon to 1 p.m.
"Worship:  Sacred Space"