.

.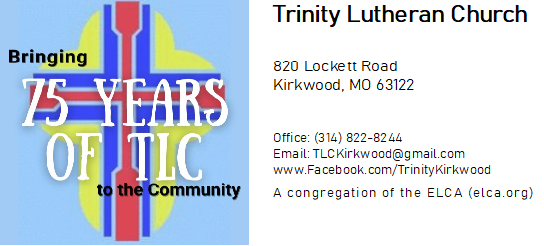 Sunday Schedule: 10:30 a.m. Indoor Worship * via Youtube, Facebook, Website
---

Join us for worship!
 Sundays at 10:30 a.m.

This Week at Trinity

Monday, March 20 – PDO on spring break
4-8:00 p.m.  Childbloom Guitar (in lounge)
Psalm 146

Tuesday, March 21 – PDO on spring break
4-8:00 p.m.  Childbloom Guitar (in lounge)
Isaiah 59:9-19

Wednesday, March 22 – PDO on spring break
10:00 a  Adult Bible Study Zoom
4-8:00 p.m.  Childbloom Guitar (in lounge)
7:30 p.m.  NA (in fellowship hall)
Colossians 1:9-14

Thursday, March 23 – PDO on spring break
4-8:00 p.m.  Childbloom Guitar (in lounge)
Ezekiel 37:1-14

Friday, March 24 – PDO on spring break
Psalm 130
I wait for you, O Lord; in your word is my hope. (Ps. 130:5)

Saturday, March 25
5:30 p.m.  Family Dinner & Worship (Taco bar)
Romans 8:6-11

Sunday, March 26 – 5 Lent
10:30 a.m. Worship service
10:30 a.m. Sunday school 
11:30 a.m.  Coffee fellowship
Gospel:  John 11:1-45

---

Trinity's Office Hours: 

Monday 9:00 – 5:00
Tuesday 9:00 – 5:00
Wednesday 9:00 – 5:00
Thursday 9:00 – 5:00
Friday 9:00 – 3:00

---

Our Sunday School
Kirk Care Mission

Current needs for the pantry include:

Healthy Request-Chunky Soup, Healthy Request-Campbell's 10.5oz soups any, Beef Stew, Saltines, Brown Rice-any kind(instant or regular), Spaghetti Sauce (cans or plastic)

---

Adult Bible Study Classes

Wednesdays, 10:00 a.m.
Via Zoom.  Contact the church office for the Zoom link, TLCKirkwood@gmail.com

---

Parents' Day Out
Accepting enrollments!

Under the directorship of Erika Duenwald, we have a solid plan in place and are doing our very best to provide a safe and healthy environment for our children.

Our program runs Monday through Friday from 8:30 a.m. to 12:30 p.m. and is designed to give parents an opportunity to run errands, get a few chores done, work a part-time job, or just relax and rejuvenate for a few hours. You choose your days!

We provide a safe, nurturing program where your child will have fun while socializing with children their age. We offer a Christ-centered environment, Bible stories, crafts, music, and interaction with our wonderful loving staff.

For more information, contact Erika at pdo@trinitykirkwood.org.

---

Third Sunday of Lent March 12

Second Sunday of Lent March 5

---

For Services from previous weeks, please see our videos on

Facebook

and

YouTube

Luther said…

"Pray, and let God worry."

– Martin Luther (written in a letter to his wife Katie)

---

Bread as God's presence

by

John Potter

on March 21, 2023 at 8:00 am

Kendall Vanderslice is a professional baker, the founder of the educational nonprofit the Edible Theology Project and a 2018 James Beard Foundation national scholar. Her new book By Bread Alone: A Baker's Reflections on Hunger, Longing, and the Goodness of God (Tyndale Momentum, 2023) weaves together her personal story and the theology around bread and The post Bread as God's presence appeared first on Living Lutheran.

---

 

---

 

Saturday, March 25 5:30 p.m.

 

A casual event catered especially
to our young families and children.
We will enjoy a fellowship dinner
and have some fun activities for
the kids to help us with worship.
The main dish will be provided,
just bring a side or dessert to share.

All are welcome, including the young at heart! 
Come as you are!

---

Sunday School is for all youth (pre-K through 5th grade) and is at the same time as worship, 10:30 – 11:30 Sunday mornings. 

---

Drive Up Holy Communion

Sundays:

March 26

April 2, 16 & 30

May 7 & 21

11:45 a.m. – 12:30 p.m.

---

Reading for Tuesday, March 21
Isaiah 59:9-19

9 Therefore justice is far from us,
    and deliverance does not reach us;
we wait for light, but there is only darkness;
    and for brightness, but we walk in gloom.
10 We grope like the blind along a wall,
    groping like those who have no eyes;
we stumble at noon as in the twilight,
    among the vigorous[a] as though we were dead.
11 We all growl like bears;
    like doves we moan mournfully.
We wait for justice, but there is none;
    for salvation, but it is far from us.
12 For our transgressions before you are many,
    and our sins testify against us.
Our transgressions indeed are with us,
    and we know our iniquities:
13 transgressing and denying the Lord
    and turning away from following our God,
talking oppression and revolt,
    conceiving lying words and uttering them from the heart.
14 Justice is turned back,
    and deliverance stands at a distance,
for truth stumbles in the public square,
    and uprightness cannot enter.
15 Truth is lacking,
    and whoever turns from evil is despoiled.

The Lord saw it, and it displeased him
    that there was no justice.
16 He saw that there was no one
    and was appalled that there was no one to intervene,
so his own arm brought him victory,
    and his righteousness upheld him.
17 He put on righteousness like a breastplate
    and a helmet of salvation on his head;
he put on garments of vengeance for clothing
    and wrapped himself in fury as in a mantle.
18 According to their deeds, so will he repay
    wrath to his adversaries, requital to his enemies;
    to the coastlands he will render requital.
19 So those in the west shall fear the name of the Lord,
    and those in the east, his glory,
for he will come like a pent-up stream
    that the wind of the Lord drives on.

Gospel for Sunday, March 26 – 5 Lent
John 11:1-45

The Death of Lazarus

11 Now a certain man was ill, Lazarus of Bethany, the village of Mary and her sister Martha. 2 Mary was the one who anointed the Lord with perfume and wiped his feet with her hair; her brother Lazarus was ill. 3 So the sisters sent a message to Jesus,[a] "Lord, he whom you love is ill." 4 But when Jesus heard it, he said, "This illness does not lead to death; rather, it is for God's glory, so that the Son of God may be glorified through it." 5 Accordingly, though Jesus loved Martha and her sister and Lazarus, 6 after having heard that Lazarus[b] was ill, he stayed two days longer in the place where he was.

7 Then after this he said to the disciples, "Let us go to Judea again." 8 The disciples said to him, "Rabbi, the Jews were just now trying to stone you, and are you going there again?" 9 Jesus answered, "Are there not twelve hours of daylight? Those who walk during the day do not stumble because they see the light of this world. 10 But those who walk at night stumble because the light is not in them." 11 After saying this, he told them, "Our friend Lazarus has fallen asleep, but I am going there to awaken him." 12 The disciples said to him, "Lord, if he has fallen asleep, he will be all right."[c] 13 Jesus, however, had been speaking about his death, but they thought that he was referring merely to sleep. 14 Then Jesus told them plainly, "Lazarus is dead. 15 For your sake I am glad I was not there, so that you may believe. But let us go to him." 16 Thomas, who was called the Twin,[d] said to his fellow disciples, "Let us also go, that we may die with him."

Jesus the Resurrection and the Life

17 When Jesus arrived, he found that Lazarus[e] had already been in the tomb four days. 18 Now Bethany was near Jerusalem, some two miles away, 19 and many of the Jews had come to Martha and Mary to console them about their brother. 20 When Martha heard that Jesus was coming, she went and met him, while Mary stayed at home. 21 Martha said to Jesus, "Lord, if you had been here, my brother would not have died. 22 But even now I know that God will give you whatever you ask of him." 23 Jesus said to her, "Your brother will rise again." 24 Martha said to him, "I know that he will rise again in the resurrection on the last day." 25 Jesus said to her, "I am the resurrection and the life.[f] Those who believe in me, even though they die, will live, 26 and everyone who lives and believes in me will never die. Do you believe this?" 27 She said to him, "Yes, Lord, I believe that you are the Messiah,[g] the Son of God, the one coming into the world."

Jesus Weeps

28 When she had said this, she went back and called her sister Mary and told her privately, "The Teacher is here and is calling for you." 29 And when she heard it, she got up quickly and went to him. 30 Now Jesus had not yet come to the village but was still at the place where Martha had met him. 31 The Jews who were with her in the house consoling her saw Mary get up quickly and go out. They followed her because they thought that she was going to the tomb to weep there. 32 When Mary came where Jesus was and saw him, she knelt at his feet and said to him, "Lord, if you had been here, my brother would not have died." 33 When Jesus saw her weeping and the Jews who came with her also weeping, he was greatly disturbed in spirit and deeply moved. 34 He said, "Where have you laid him?" They said to him, "Lord, come and see." 35 Jesus began to weep. 36 So the Jews said, "See how he loved him!" 37 But some of them said, "Could not he who opened the eyes of the blind man have kept this man from dying?"

Jesus Raises Lazarus to Life

38 Then Jesus, again greatly disturbed, came to the tomb. It was a cave, and a stone was lying against it. 39 Jesus said, "Take away the stone." Martha, the sister of the dead man, said to him, "Lord, already there is a stench because he has been dead four days." 40 Jesus said to her, "Did I not tell you that if you believed you would see the glory of God?" 41 So they took away the stone. And Jesus looked upward and said, "Father, I thank you for having heard me. 42 I knew that you always hear me, but I have said this for the sake of the crowd standing here, so that they may believe that you sent me." 43 When he had said this, he cried with a loud voice, "Lazarus, come out!" 44 The dead man came out, his hands and feet bound with strips of cloth and his face wrapped in a cloth. Jesus said to them, "Unbind him, and let him go."

The Plot to Kill Jesus

45 Many of the Jews, therefore, who had come with Mary and had seen what Jesus did believed in him.