.

.

Trinity Lutheran Church
820 Lockett Road
Kirkwood MO 63122
Office:  (314) 822-8244
Fax:  (314) 822-9290
Email:  tlchurch@swbell.net
Sunday mornings: Education Hour 9:15 ♦ Worship 10:30 ♦ Coffee Fellowship 11:45
Congregational Meeting
Sunday, January 27
following worship service at 11:45 a.m.
The Congregational Meeting that was originally scheduled for January 13th has been rescheduled for Sunday, January 27, immediately following the worship service.
---
This Week at Trinity
Monday, January 14
Tuesday, January 15
6:30 am  ChristCare – Plufka
1:00 pm  ChristCare – Chumley/Hahs
1:00 pm  ChristCare – Sullivan
February Tribune Articles Due
Wednesday, January 16
9:30 am  WELCA Project Day
12:00 pm  Adult Class
7:00 pm  NA
Thursday, January 17
12:00 pm OWLS
Friday, January 18
9:00 am  Quilters

Saturday, January 19
Sunday, January 20

9:15 am  Education Hour/Sunday School
10:30 am  Worship Service
11:45 am  Coffee Fellowship
Monday, January 21 – Martin Luther King, Jr. Day
PDO and Offices Closed
---
Trinity's Office Hours:
Monday 9:00 – 5:30
Tuesday 9:00 – 5:30
Wednesday 9:00 – 5:30
Thursday 9:00 – 5:30
Friday 9:00 – 3:00
---
Our Sunday School Kirk Care Mission

Desired donations to the pantry include:
chunky meaty soups, canned pastas such as Spaghettios and ravioli, canned meats such as Spam, chili, stew, tuna, chicken, peanut butter, cereal, etc.
---
---
Luther said…
.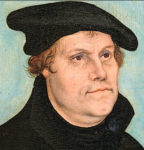 "Is it not wonderful news to believe that salvation lies outside ourselves?"
---
Prayer Ventures: Jan. 15

by

Andrea Kulik

on January 15, 2019 at 9:00 am

Every day, Living Lutheran offers a prayer for the day from the ELCA resource Prayer Ventures, which can be downloaded here. These petitions are offered as a guide for your own prayer life as together we pray for the needs of the world and give thanks for the ministries of our church. Tuesday, Jan. 15 Give thanks that […] The post Prayer Ventures: Jan. 15 appeared first on Living Lutheran. […]
---
Fellowship Event
Saturday, January 26
5:30 p.m.
Potluck dinner in fellowship hall and White Elephant gift exchange.
This is an adult event.
Free childcare provided.
Please bring a wrapped White Elephant gift
and a dish to share.
Soda, coffee, and water provided.
BYOB if you wish.
Sign-up poster is on the bulletin board
in the lounge.
---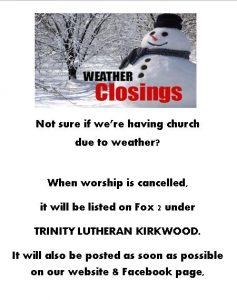 ---

Adult Bible Study Classes
Sundays
9:15 to 10:00 a.m.
Each week a study of the 2nd Scripture Reading
Wednesdays
noon to 1 p.m.
Next class:  January 16
"Honoring Our Neighbor's Faith" – Islam
Guest speaker from the Islamic Foundation of Greater St. Louis