.

.

Trinity Lutheran Church
820 Lockett Road
Kirkwood MO 63122
Sunday mornings: Education Hour 9:15 ♦ Worship 10:30 ♦ Coffee Fellowship 11:45
This Week at Trinity
Monday, September 18
6:00 pm – 7:00 pm  TKD  (fellowship hall)
Tuesday, September 19
6:30 am  ChristCare – Plufka
1:00 pm  ChristCare – Sullivan
1:00 pm  ChristCare – Murphy
6:30 pm  ChristCare – Parisi
Wednesday, September 20
9:30 am  WELCA Project day
12:00 pm  Bible study (lounge)
7:30 pm  NA
Thursday, September 21
9:00 am  Men's Bible study (lounge)
12:00 pm  OWLS
Friday, September 22
9:00 am  Quilters
Saturday, September 23
1:00 pm  Event (lounge)
Sunday, September 24
9:15 am  Education Hour
10:30 am  Worship service & Temple Talk (Feed My Starving Children)
11:45 am  Coffee fellowship
After coffee fellowship, Church Basement Ladies lunch (bring your own lunch)
1:15 pm  Depart Trinity for Church Basement Ladies show
High School gathering at Good Shepherd
---
Trinity's Office Hours:
Monday 9:00 – 5:30
Tuesday 9:00 – 5:30
Wednesday 9:00 – 5:30
Thursday 9:00 – 5:30
Friday 9:00 – 3:00
---
Our Sunday School Kirk Care Mission

Desired donations to the pantry include:
chunky soups, pastas, canned meats such as Spam, chili, stew, tuna, chicken,etc.
---
CHAIR YOGA
Interested in trying a free chair-based yoga class? Come check it out on Wednesdays from 11:00 – 11:45 a.m. in the upstairs lounge.
No experience, yoga mats, or fancy workout clothes necessary.
Chair yoga offers all the healthy benefits of yoga: mind, body and spirit.
Dates: Wednesday Sept. 27th, and October 4th.
Questions? call or email Sandy Cox 314-691-5298; tecsoc88@gmail.com
---
---
---
Luther said…
.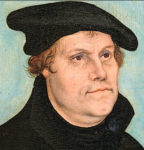 "The Bible is alive, it speaks to me; it has feet, it runs after me; it has hands, it lays hold of me."
---
MENTORING:  A Partnership of Journey
Trinity has been connecting Confirmation students and adult members of the congregation for many years.  This year we have four young people who soon will be looking for someone to walk with them as they continue on their faith journey and we are seeking volunteers to join them as mentors.
What does the job entail?
Getting together at least once a month to study, pray, and serve with one student during their seventh- and eighth-grade years.  TLC provides study materials and an outline that suggests things the mentor/mentee pairs can do together.  But there are no absolutes.  The mentoring partners are free to adapt to their own interests.
How are matches made?
Students request whom they'd like to be their mentor.  Confirmation teachers Linda Lockhart and Steve Korris approach the requested person to see if they are willing to serve.
If you want to know more, or are ready to be included as being open to working with a Confirmation student, please see Linda or Steve.
---
Prayer Ventures: September 22

by

Bruce Helland

on September 22, 2017 at 8:00 am

Every day, Living Lutheran offers a prayer for the day from the ELCA resource Prayer Ventures, which can be downloaded here. These petitions are offered as a guide for your own prayer life as together we pray for the needs of the world and give thanks for the ministries of our church. Friday, Sept. 22: […] The post Prayer Ventures: September 22 appeared first on Living Lutheran. […]
---
Luther Movie Night:  October 7th
Please join the Trinity Lutheran Church Confirmation Class to view Luther, the 2003 biopic about the life of Martin Luther (1483-1546), starring Joseph Fiennes, as part of our Reformation 500 observation.  This independent film was partially funded by Thrivent Financial for Lutherans.  The film covers Luther's life from his becoming a monk in 1505 to the Diet of Augsburg in 1530.
We'll be watching the movie in the fellowship hall and will provide popcorn and hot cider; you are welcome to bring other snacks for yourself or to share.  Please see sign-up sheet in the lounge to indicate if you're bringing treats.
This event is free of charge, but we will accept a free-will offering to go toward the youth travel fund.  Doors open at 6:30 p.m.; movie starts at 7:00 p.m.  
---
TRINITY LUTHERAN CHURCH'S
3rd ANNUAL OKTOBERFEST
Saturday, October 28th
6:00 p.m.
$15 plus 5 canned items per person
Free childcare provided
Fun!  Fellowship!  Food!
This fellowship event is being sponsored by the Outreach Committee to benefit Kirk Care food pantry and will include:  dinner, live music, raffle prizes, chicken dance contest, and a short informational presentation about the Kirk Care Food Pantry program.
Live music from the "Two Star Final" polka band!  6:00 p.m. – 7:30 p.m.  
---

Sunday Morning Adult Class
9:15 a.m., in the church lounge
Journey with Martin Luther

Wednesday Noon Bible Study
12:00 p.m., in the church lounge
Beginning September 13
The Wednesday Bible study is discussing the book
October 31, 1517: The Day that Changed the World by Martin Marty, and Luther's Smalcald Articles.  
Thursdays at 9:00 a.m.
Men's Breakfast Bible Study, in the church lounge
Next meeting is September 28
Coffee and muffins provided!