.

.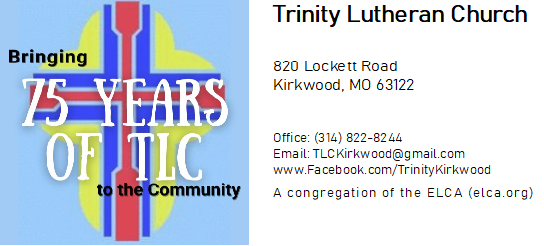 Sunday Schedule: 10:30 a.m. Indoor Worship * via Youtube, Facebook, Website
---

Join us for worship!
 Sundays at 10:30 a.m.

This Week at Trinity

Monday, August 8

Psalm 89:1-18

Tuesday, August 9

Hebrews 11:1-7

Wednesday, August 10

11:30 a.m.  Katie's Crew
2 Chronicles 33:1-17

Thursday, August 11

Jeremiah 23:23-29

Friday, August 12

Psalm 82
Arise, O God, and rule the earth. (Ps. 82:8)

Saturday, August 13

Hebrews 11:29-12:2

Sunday, August 14

10:30 a.m.  Worship service
Gospel:  Luke 12:49-56

---

Trinity's Office Hours: 

Monday 9:00 – 5:00
Tuesday 9:00 – 5:00
Wednesday 9:00 – 5:00
Thursday 9:00 – 5:00
Friday 9:00 – 3:00

---

Our Sunday School
Kirk Care Mission

Current needs for the pantry include:

Healthy Request-Chunky Soup, Healthy Request-Campbell's 10.5oz soups any, Beef Stew, Saltines, Brown Rice-any kind(instant or regular), Spaghetti Sauce (cans or plastic)

---

Adult Bible Study Classes

Wednesdays, 10:00 a.m.
On Pause for the summer.

---

Parents' Day Out
Accepting enrollments!

Under the directorship of Erika Duenwald, we have a solid plan in place and are doing our very best to provide a safe and healthy environment for our children.

Our program runs Monday through Friday from 8:30 a.m. to 12:30 p.m. and is designed to give parents an opportunity to run errands, get a few chores done, work a part-time job, or just relax and rejuvenate for a few hours. You choose your days!

We provide a safe, nurturing program where your child will have fun while socializing with children their age. We offer a Christ-centered environment, Bible stories, crafts, music, and interaction with our wonderful loving staff.

For more information, contact Erika at pdo@trinitykirkwood.org.

---

Ninth Sunday After Pentecost August 7

Eighth Sunday After Pentecost July 31

---

For Services from previous weeks, please see our videos on

Facebook

and

YouTube

---

Congratulations from Kirkwood's Mayor, Timothy Griffin, on the recognition of Trinity's 75th Anniversary.

Luther said…

"Lord Jesus, You are my righteousness, I am your sin.

You took on you what was mine; yet set on me what was yours.

You became what you were not, that I might become what I was not."

– Martin Luther

---

Prayer ventures: Aug. 12

by

Andrea Kulik

on August 12, 2022 at 8:00 am

Every day, Living Lutheran offers a prayer from the ELCA resource Prayer ventures, which can be downloaded here. These daily petitions are offered as a guide for your own prayer life as together we pray for the needs of the world and give thanks for the ministries of our church. Friday, Aug. 12 International Youth Day  The post Prayer ventures: Aug. 12 appeared first on Living Lutheran.

 

---

JOIN US!
SUNDAY, SEPTEMBER 11

When to party

:
Worship at 10:30 a.m.
Community celebration
from Noon to 4:00 pm.

Great BBQ and sides
Bubble Van Noon-1:00 p.m.
Face painting, games, Classic Model A cars, shaved ice and ice cream, prizes, fun, and so much more!

Proceeds to benefit HORIZONS ST. LOUIS.

---

Sunday:
August 21 11:45 a.m. – 12:30 p.m.

---

Reading for Thursday, August 11
Jeremiah 23:23-29

23 Am I a God near by, says the Lord, and not a God far off? 24 Who can hide in secret places so that I cannot see them? says the Lord. Do I not fill heaven and earth? says the Lord. 25 I have heard what the prophets have said who prophesy lies in my name, saying, "I have dreamed! I have dreamed!" 26 How long? Will the hearts of the prophets ever turn back—those who prophesy lies and who prophesy the deceit of their own heart? 27 They plan to make my people forget my name by their dreams that they tell one another, just as their ancestors forgot my name for Baal. 28 Let the prophet who has a dream tell the dream, but let the one who has my word speak my word faithfully. What has straw in common with wheat? says the Lord. 29 Is not my word like fire, says the Lord, and like a hammer that breaks a rock in pieces?

Gospel for Sunday, August 14
Luke 12:49-56

49 "I have come to cast fire upon the earth, and how I wish it were already ablaze! 50 I have a baptism with which to be baptized, and what constraint I am under until it is completed! 51 Do you think that I have come to bring peace to the earth? No, I tell you, but rather division! 52 From now on five in one household will be divided, three against two and two against three; 53 they will be divided:


father against son
    and son against father,
mother against daughter
    and daughter against mother,
mother-in-law against her daughter-in-law
    and daughter-in-law against mother-in-law."

Interpreting the Time

54 He also said to the crowds, "When you see a cloud rising in the west, you immediately say, 'It is going to rain,' and so it happens. 55 And when you see the south wind blowing, you say, 'There will be scorching heat,' and it happens. 56 You hypocrites! You know how to interpret the appearance of earth and sky, but why do you not know how to interpret the present time?