.

.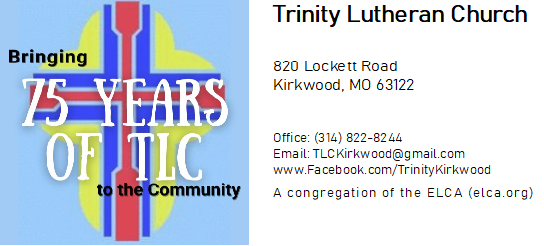 Sunday Schedule: 10:30 a.m. Indoor Worship * via Youtube, Facebook, Website
---

Join us for worship!
Sundays at 10:30 a.m.

This Week at Trinity

Monday, December 5

12:30 p Music with Friends (in lounge)
4-8:00 p Childbloom Guitar (in lounge)
Psalm 21

Tuesday, December 6

4-8:00 p Childbloom Guitar (in lounge)
1 Thessalonians 4:1-12

Wednesday, December 7

No Katie's Crew this month
10:00 a Adult Bible Study Zoom
4-8:00 p Childbloom Guitar (in lounge)
6:30 p Council Meeting Zoom
7:30 p NA (in fellowship hall)
Genesis 15:1-18

Thursday, December 8

7:30 p Faithful Hangouts Zoom
4-8:00 p Childbloom Guitar (in lounge)
Isaiah 35:1-10

Friday, December 9
Psalm 146:5-10

Saturday, December 10


9:00 a WELCA collection of Cookies due
James 5:7-10

Sunday, December 11 – 3rd Advent
10:30 a.m. Worship service
10:30 a.m. Youth Sunday School
11:30 a Coffee Fellowship
11:30 a WELCA Cookie Tray pickup
Gospel: Matthew 11:2-11

---

Trinity's Office Hours:

Monday 9:00 – 5:00
Tuesday 9:00 – 5:00
Wednesday 9:00 – 5:00
Thursday 9:00 – 5:00
Friday 9:00 – 3:00

---

Our Sunday School
Kirk Care Mission

Current needs for the pantry include:

Healthy Request-Chunky Soup, Healthy Request-Campbell's 10.5oz soups any, Beef Stew, Saltines, Brown Rice-any kind(instant or regular), Spaghetti Sauce (cans or plastic)

---

Adult Bible Study Classes

Wednesdays, 10:00 a.m.
Via Zoom. Contact the church office for the Zoom link, TLCKirkwood@gmail.com

---

---

Parents' Day Out
Accepting enrollments!

Under the directorship of Erika Duenwald, we have a solid plan in place and are doing our very best to provide a safe and healthy environment for our children.

Our program runs Monday through Friday from 8:30 a.m. to 12:30 p.m. and is designed to give parents an opportunity to run errands, get a few chores done, work a part-time job, or just relax and rejuvenate for a few hours. You choose your days!

We provide a safe, nurturing program where your child will have fun while socializing with children their age. We offer a Christ-centered environment, Bible stories, crafts, music, and interaction with our wonderful loving staff.

For more information, contact Erika at pdo@trinitykirkwood.org.

---

Second Sunday of Advent December 4

 

First Sunday of Advent November 27

---

For Services from previous weeks, please see our videos on

Facebook

and

YouTube

---

---

Luther said…  

"Lord Jesus, You are my righteousness, I am your sin.

You took on you what was mine; yet set on me what was yours.

You became what you were not, that I might become what I was not."

– Martin Luther

---

Lectionary blog: What about John?

by

Andrea Kulik

on December 5, 2022 at 9:00 am

Lectionary for Dec 11, 2022 Third Sunday of Advent Isaiah 35:1-10; Psalm 146:5-10; James 5:7-10; Matthew 11:2-11 How many times, when starting a new class, a new job or a new relationship, or moving to a new community do we say to ourselves: "This is not what I signed up for!"? I wonder if John The post Lectionary blog: What about John? appeared first on Living Lutheran.

Drawing


---

Sunday School is for all youth (pre-K through 5th grade) and is at the same time as worship, 10:30 – 11:30 Sunday mornings. There will be no Sunday School on 11/27, 12/25, and 1/1.

---

Drive Up Holy Communion

Sundays:
Dec. 18 11:45 a.m. – 12:30 p.m.

---

Reading for Monday, December 5
Psalm 21

Thanksgiving for Victory

1 In your strength the king rejoices, O Lord,
and in your help how greatly he exults!
2 You have given him his heart's desire
and have not withheld the request of his lips. Selah
3 For you meet him with rich blessings;
you set a crown of fine gold on his head.
4 He asked you for life; you gave it to him—
length of days forever and ever.
5 His glory is great through your help;
splendor and majesty you bestow on him.
6 You bestow on him blessings forever;
you make him glad with the joy of your presence.
7 For the king trusts in the Lord,
and through the steadfast love of the Most High he shall not be moved.

8 Your hand will find out all your enemies;
your right hand will find out those who hate you.
9 You will make them like a fiery furnace
when you appear.
The Lord will swallow them up in his wrath,
and fire will consume them.
10 You will destroy their offspring from the earth
and their children from among humankind.
11 If they plan evil against you,
if they devise mischief, they will not succeed.
12 For you will put them to flight;
you will aim at their faces with your bows.

13 Be exalted, O Lord, in your strength!
We will sing and praise your power.

Gospel for Sunday, December 11 – 3rd Advent
Matthew 11:2-11

Messengers from John the Baptist

2 When John heard in prison what the Messiaha] was doing, he sent word by hisb] disciples 3 and said to him, "Are you the one who is to come, or are we to wait for another?" 4 Jesus answered them, "Go and tell John what you hear and see: 5 the blind receive their sight, the lame walk, those with a skin disease are cleansed, the deaf hear, the dead are raised, and the poor have good news brought to them. 6 And blessed is anyone who takes no offense at me."

7 As they went away, Jesus began to speak to the crowds about John: "What did you go out into the wilderness to look at? A reed shaken by the wind? 8 What, then, did you go out to see? Someonec] dressed in soft robes? Look, those who wear soft robes are in royal palaces. 9 What, then, did you go out to see? A prophet?d] Yes, I tell you, and more than a prophet. 10 This is the one about whom it is written,

'See, I am sending my messenger ahead of you,
who will prepare your way before you.'

11 "Truly I tell you, among those born of women no one has arisen greater than John the Baptist, yet the least in the kingdom of heaven is greater than he.