.

.

Trinity Lutheran Church
820 Lockett Road
Kirkwood MO 63122
Office:  (314) 822-8244
Fax:  (314) 822-9290
Email:  tlchurch@swbell.net
Sunday mornings: Education Hour 9:15 ♦ Worship 10:30 ♦ Coffee Fellowship 11:45
This Week at Trinity
Monday, April 23
Tuesday, April 24
6:30 am  ChristCare – Plufka
1:00 pm  WELCA Board meeting
Wednesday, April 25
12:00 pm  Bible Study
7:30 pm  NA

Thursday, April 26
9:15 am  Men's Bible Study
Tribune available
Friday, April 27
9:00 am  Quilters
11:15 am  Hospitality meeting
Saturday, April 28
Sunday, April 29

9:15 am  Education Hour
10:30 am   Worship Service
11:45 am  Coffee Fellowship
6:00 pm  H.S. Cluster – Senior send-off  (Tropicana Lanes, Clayton)
---
Trinity's Office Hours:
Monday 9:00 – 5:30
Tuesday 9:00 – 5:30
Wednesday 9:00 – 5:30
Thursday 9:00 – 5:30
Friday 9:00 – 3:00
---
Our Sunday School Kirk Care Mission

Desired donations to the pantry include:
chunky meaty soups, canned pastas such as Spaghettios and ravioli, canned meats such as Spam, chili, stew, tuna, chicken, peanut butter, cereal, etc.
---
Luther said…
.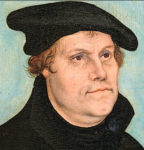 ""We are saved by faith alone, but the faith that saves is never alone."
---
Prayer Ventures: April 23

by

Bruce Helland

on April 23, 2018 at 8:00 am

Every day, Living Lutheran offers a prayer for the day from the ELCA resource Prayer Ventures, which can be downloaded here. These petitions are offered as a guide for your own prayer life as together we pray for the needs of the world and give thanks for the ministries of our church. Monday, April 23: […] The post Prayer Ventures: April 23 appeared first on Living Lutheran. […]
---
---

Sunday Morning Adult Class
9:15 a.m., in the church lounge
Journey with Martin Luther – The Lord's Prayer
Wednesday Noon Bible Study
12:00 p.m., in the church lounge
Discussion of Chapter 3, Sabbath as Resistance:  Saying No to the Culture of Now, by Walter Brueggemann.  Brueggemann writes that the Sabbath is not simplicity about keeping rules, but rather about becoming a whole person and restoring a whole society.  Based on selected scripture readings, he addresses our 24/7 society of consumption and considers how keeping the Sabbath allows us to break through the restless cycle of living and focus on what is truly important:  God, other people, all life.  Books provided.
Men's Thursday Morning Bible Study
Thursdays at 9:15 a.m., in the church
Sunday's second scripture reading