.

.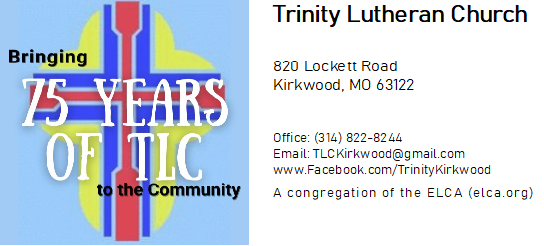 Sunday Schedule: 10:30 a.m. Indoor Worship * via Youtube, Facebook, Website
---

Join us for worship!
Sundays at 10:30 a.m.

This Week at Trinity

Monday, June 20

Psalm 64

Tuesday, June 21

Job 18:1-21

Wednesday, June 22

Ephesians 2:11-22

Thursday, June 23

1 Kings 19:15-16, 19-21

Friday, June 24

Psalm 16

I have set the LORD always before me. (Ps. 16:8)

Saturday, June 25

Galatians 5:1, 13-25

Sunday, June 26

10:30 a.m. Worship service
Gospel: Luke 9:51-62

---

Trinity's Office Hours:

Monday 9:00 – 5:00
Tuesday 9:00 – 5:00
Wednesday 9:00 – 5:00
Thursday 9:00 – 5:00
Friday 9:00 – 3:00

---

Our Sunday School
Kirk Care Mission

Current needs for the pantry include:

Healthy Request-Chunky Soup, Healthy Request-Campbell's 10.5oz soups any, Beef Stew, Saltines, Brown Rice-any kind(instant or regular), Spaghetti Sauce (cans or plastic)

---

Adult Bible Study Classes

Wednesdays, 10:00 a.m.
On Pause for the summer.

---

Parents' Day Out
Accepting enrollments!

Under the directorship of Erika Duenwald, we have a solid plan in place and are doing our very best to provide a safe and healthy environment for our children.

Our program runs Monday through Friday from 8:30 a.m. to 12:30 p.m. and is designed to give parents an opportunity to run errands, get a few chores done, work a part-time job, or just relax and rejuvenate for a few hours. You choose your days!

We provide a safe, nurturing program where your child will have fun while socializing with children their age. We offer a Christ-centered environment, Bible stories, crafts, music, and interaction with our wonderful loving staff.

For more information, contact Erika at pdo@trinitykirkwood.org.

---

Second Sunday After Pentecost June 19

Holy Trinity Sunday June 12

---

For Services from previous weeks, please see our videos on

Facebook

and

YouTube

---

Congratulations from Kirkwood's Mayor, Timothy Griffin, on the recognition of Trinity's 75th Anniversary.

Luther said…

"Lord Jesus, You are my righteousness, I am your sin.

You took on you what was mine; yet set on me what was yours.

You became what you were not, that I might become what I was not."

– Martin Luther

---

Prayer ventures: June 25

by

Andrea Kulik

on June 25, 2022 at 8:00 am

Every day, Living Lutheran offers a prayer from the ELCA resource Prayer ventures, which can be downloaded here. These daily petitions are offered as a guide for your own prayer life as together we pray for the needs of the world and give thanks for the ministries of our church. Saturday, June 25 Pray for programs The post Prayer ventures: June 25 appeared first on Living Lutheran.

 

Sundays: July 10 & 24 August 7 & 21 11:45 a.m. – 12:30 p.m.

---

Reading for Friday, June 24
Psalm 16

A Miktam of David.

1 Protect me, O God, for in you I take refuge.
2 I say to the Lord, "You are my Lord;
    I have no good apart from you."[a]

3 As for the holy ones in the land, they are the noble ones
    in whom is all my delight.

4 Those who choose another god multiply their sorrows;[b]
    their drink offerings of blood I will not pour out
    or take their names upon my lips.

5 The Lord is my chosen portion and my cup;
    you hold my lot.
6 The boundary lines have fallen for me in pleasant places;
    I have a goodly heritage.

7 I bless the Lord, who gives me counsel;
    in the night also my heart instructs me.
8 I keep the Lord always before me;
    because he is at my right hand, I shall not be moved.

9 Therefore my heart is glad, and my soul rejoices;
    my body also rests secure.
10 For you do not give me up to Sheol
    or let your faithful one see the Pit.

11 You show me the path of life.
    In your presence there is fullness of joy;
    in your right hand are pleasures forevermore.

Reading for Saturday, June 25
Galatians 5:1, 13-25

5 1 For freedom Christ has set us free. Stand firm, therefore, and do not submit again to a yoke of slavery.

13 For you were called to freedom, brothers and sisters, only do not use your freedom as an opportunity for self-indulgence,[a] but through love become enslaved to one another. 14 For the whole law is summed up in a single commandment, "You shall love your neighbor as yourself." 15 If, however, you bite and devour one another, take care that you are not consumed by one another.

16 Live by the Spirit, I say, and do not gratify the desires of the flesh. 17 For what the flesh desires is opposed to the Spirit, and what the Spirit desires is opposed to the flesh, for these are opposed to each other, to prevent you from doing what you want. 18 But if you are led by the Spirit, you are not subject to the law. 19 Now the works of the flesh are obvious: sexual immorality, impurity, debauchery, 20 idolatry, sorcery, enmities, strife, jealousy, anger, quarrels, dissensions, factions, 21 envy,[b] drunkenness, carousing, and things like these. I am warning you, as I warned you before: those who do such things will not inherit the kingdom of God.

22 By contrast, the fruit of the Spirit is love, joy, peace, patience, kindness, generosity, faithfulness, 23 gentleness, and self-control. There is no law against such things. 24 And those who belong to Christ[c] have crucified the flesh with its passions and desires. 25 If we live by the Spirit, let us also be guided by the Spirit.